Australia's best travel, dining, lifestyle and adventure magazine,
Originally a spinoff from the highly popular Channel Nine TV show "POSTCARDS" which is well known in the market place.
Distributed throughout Victoria's major hotel chains in Melbourne CBD and regional Victoria.
Revealing secrets about sheer cliffs that plunge into the deep blue of the Great Ocean Road, to the picturesque, undulating landscape of High Country. Postcards will take you there. If you like a bit of a mystery, you can be the Poroit searching for the history laden in bluestone buildings of the Goldfields, to the hidden laneways of the city.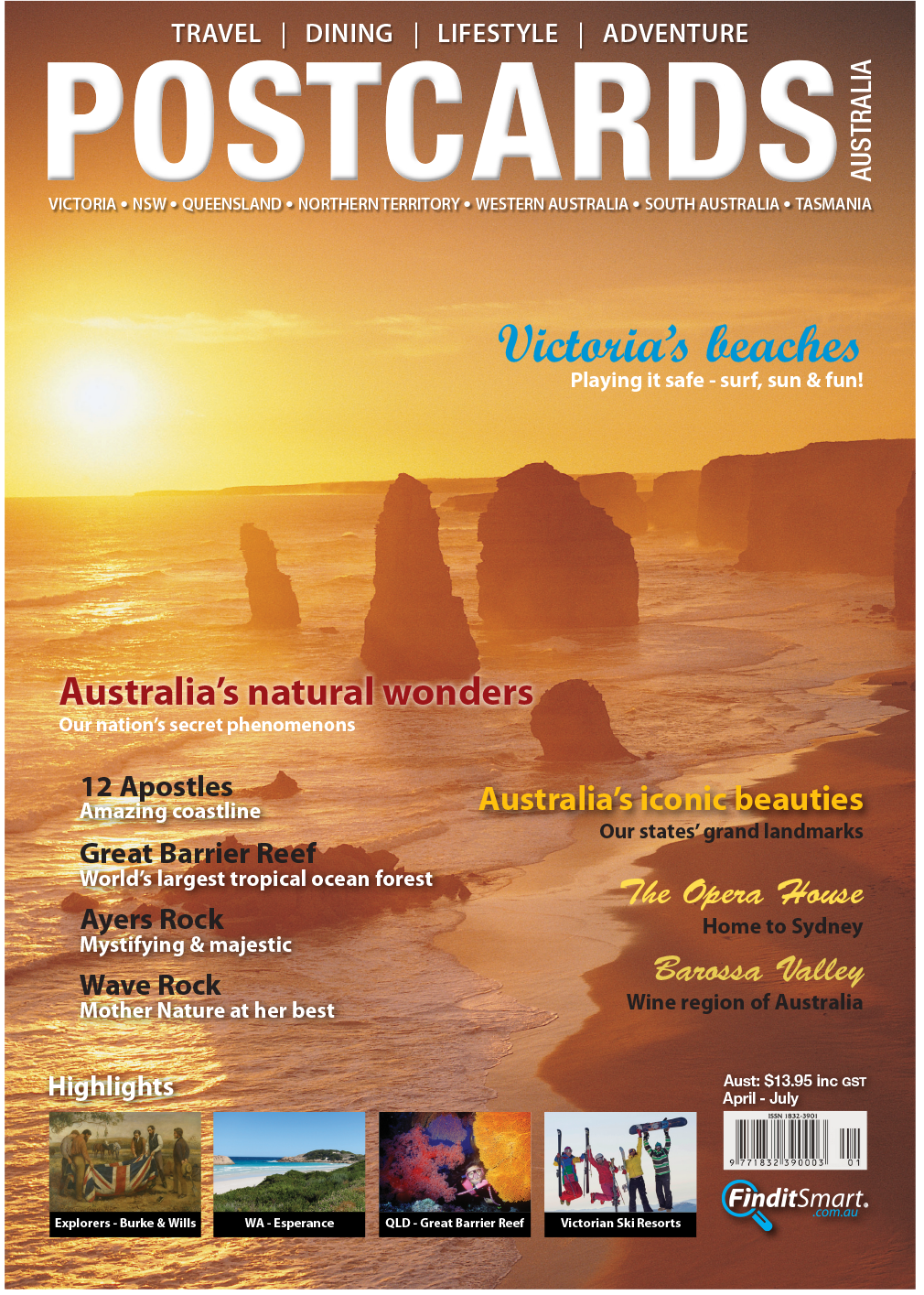 Postcards will unravel every magic moment. From the ferny forests of the Yarra Valley, to the expansive, sun-ripened vineyards of the Mornington Peninsula, Postcards will guide you.
Come away with us on an un-winding road, stopping along the way to discover romantic hideaways, secret cellar doors, vibrant regional festivals, spa sanctuaries, wildlife wonderlands, culinary delights, rugged outdoor adventure, exciting boutiques, swish bars, historical hotspots and culture centres.
See, taste, touch and experience the beauty and wonder of your home state and feel yourself unravelling-coming alive again-in the process.

Let Postcards be the beginning of your journey for Accomodation, Adventure, Antiques, Attractions, Culture, Dining, Eatery, Entertainment, Landmarks, Leisure, Shopping, Tours, Wellbeing, Wineries, then let your imagination and instinct take you the rest of the way. Don't forget to pack your sense of adventure and fun – because after all, you never know where your next secret will be discovered.
Victoria's 16 wonderful regions
Apline National Park
Bellarine Peninsula
Dandenong Ranges
Gippsland
Goldfields
Goulburn Valley
Grampians 
High Country
Macedon Ranges
Melbourne
Mornington Peninsula
Murray
Great Ocean Road
Philip Island
Spa Country
Yarra Valley
Secure Your Position Today!
SALES ENQUIRY
Email: info@finditsmart.com.au
2020 © copyrights. Find It Smart Global Pty Ltd. All Rights Reserved